"Mom…Why did God give me CF?"
I heard those words from my son, Carsten, sitting in the back seat on the way home from school one day. I was so thankful he could not see my hands gripping the steering wheel so hard my knuckles were turning white and the tears welling up in my eyes as I tried to calm my voice to give him an answer.
"I don't know, son, you can ask Him when you get to heaven."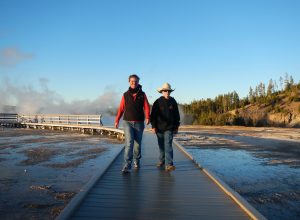 I have spent the last decade and a half trying to come up with my own answer to that question. I now realize that our family was uniquely designed to raise a child with cystic fibrosis. Much of a family's life and a mother's days are filled with fear when you are raising a child with a progressive, life-shortening chronic illness. Yet, there's a definition of  "courage" that goes like this…
"Courage is the willingness to do the right thing in spite of fear. Courage, then, is not necessarily the absence of fear."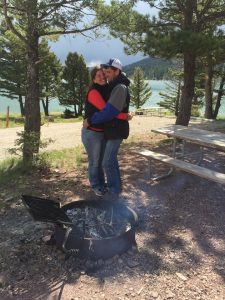 Our family met the Dieruf family shortly before the first Cody Dieruf Benefit Foundation (CDBF) Auction. Over the years the Dieruf's have taught me that unique definition of courage. The Dieruf family is the essence of courage. I am forever grateful for the support of the Cody Dieruf Benefit Foundation. The Foundation has helped our family with medical, travel and food expenses to clinic visits in Billings every three months, and travel and food expenses for two-week hospitalizations in both Denver and Billings. The Foundation paid Carsten's monthly tuition for many years of Taekwondo practice. The Foundation's support provided the testing fee for Carsten to earn his black belt degree at sixteen years old! The Foundation also financially supported around ten years of annual Fiddle Camp tuition and weekly fiddle lessons for Carsten's musical endeavors. CDBF made it possible for Carsten to excel at downhill skiing with ski passes to Bridger Bowl.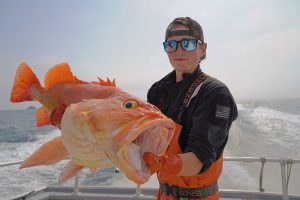 The Foundation's support of our family has also extended beyond the financial. We have developed meaningful connections with local families who also raise children with cystic fibrosis (CF). We are friends with other families that we may never have met without the common thread of CF. Our family has received guidance and support from families who have lost their children to CF, to families that are newly diagnosed. The families with young children give our family the opportunity to remember back; recognizing how far we have come and how much we have learned. The families that have dealt with loss give us the indispensable advice that we are not crazy, we are CF parents.
Attending the Mother's Retreat helped me realize that every family has a unique journey and that there is no right or wrong way to raise a child with a chronic illness.

I listened to Ginny Dieruf introduce her family every year at the Cody Dieruf Benefit Auction. For many years I dealt with internal turmoil between her saying that George was her "rock", best friend, and the media's opinion that your spouse should not be your "rock". Carsten's father and I celebrated our twenty-year wedding anniversary this spring. I am glad I listened to Ginny all those years and followed the model that she and George embodied traversing the life of cystic fibrosis.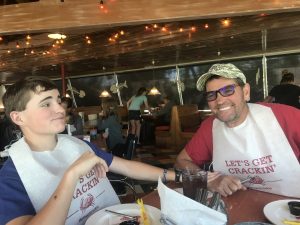 Carsten began Trikafta shortly before Thanksgiving. Our family was given a truly blessed holiday. Carsten is thriving on Trikafta and has a very bright future. Thank you to the Cody Dieruf Benefit Foundation & support of the sponsors & donors for helping our family keep Carsten strong and healthy.